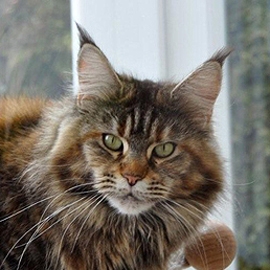 Health:
FeLV/FIV negative
HCM DNA mybPC3 negative
Parents HCM and PKD screened negative
HCM and PKD screened negative 07/2012
Description:
Emely is a strong Maine Coon cat of medium size.
Her head shape is correct, her forehead perfectly curved.
She has extremely large ears, which are well set and feature long and thick tufts.
Her muzzle is square with a matching chin. Her profile is perfect.
Emely is the last daughter of Quiggley and the extraordinary dam Edda.
To us, Emely is a true gem, and so we decided to keep her!
Her show results have repeatedly confirmed our decision:
02.04.2011 Györ Best in Variety, nom. BIS
12.03.2011 Bratislava Best in Variety, nom. BIS, Best in Show
29.01.2011 Klosterneuburg Best in Variety all over
22.01.2011 Stockerau Best in Variety all over, nom. BIS, Best in Show
21.11.2010 Wien nom. BIS
20.11.2010 Wien Best in Variety, nom. BIS
23.09.2010 Lannach Best in Variety
TICA-CHAMPION with 8 months
JUNIOR MISS AUSTRIA 2011