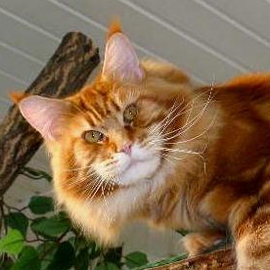 Health:
HCM DNA mybPC3 negative
HCM and PKD screened negative 2007
x-rayed for HD negative 2007
Description:
Quiggley is a really impressive cat with a weight of 10 kg (honestly!) and sporting a very muscular body.
Fortunately, his enormous size and distinct classic pattern are passed on to his kittens.
Quiggley has a wild-like appearance and an extremely square muzzle.
His ears are extraordinarily long, well set and feature long and thick lynx tufts.
He is a wonderful cat, loving and cuddlesome - a true gem!
MISTER AUSTRIA 2003
MISTER AUSTRIA 2004