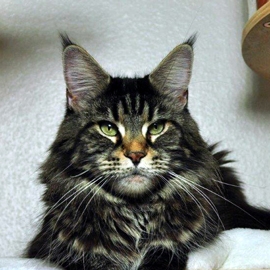 Health:
FeLV/FIV negative
HCM DNA mybPC3 negative
Parents HCM and PKD screened negative
HCM and PKD screened negative 2010
Description:
Edda is a strong Maine Coon cat of large size and with a weight of 6 kg.
She is the daughter of WW'04 SW'04 CFA AMC/FIFE EC My Maine av Persicum DSM DM DVM
Summerfield Valentino, who is the son of world winner Honey Hill Tommy Steine.
Her head shape is correct, her forehead perfectly curved. Her ears are large and well set.
Edda has a perfect profile. Her wonderful traits and profile are passed on to her kittens.