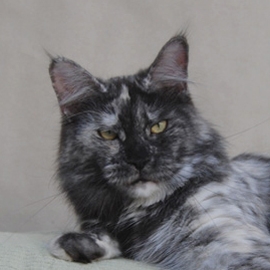 Health:
HCM DNA mybPC3 negative
HCM and PKD screened negative 2010
Parents HCM und PKD screened negativ
Description:
As I am a really big fan of silver and tortie colors,
I knew immediately that this girl would stay with me!
Tracy has a very long and square muzzle with a matching chin.
Her ears are long and well set, her profile is perfect.
I particularly like her long and strong body and her full flowing tail.
Tracy has repeatedly proven that she is a loving and caring mother.