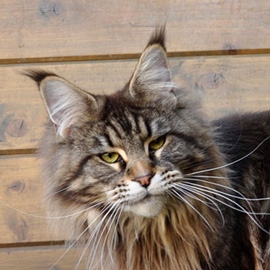 Health:
FeLV/FIV negative
HCM DNA mybPC3 negative
Parents HCM and PKD screened negative
HCM and PKD screened negative 07/2012
Color:
black tabby classic (trägt Nonagouti)
Description:
Diamond is a cat of very large size and strength.
She has a particularly long body and a full and flowing tail.
She got her great ears and body size from our CH Justcoons Crazy Diamond.
Her muzzle is extraordinarily square and particularly long.
What's more, she features a very good profile.
At the age of 11 months she was ranked Best in Variety, nom. BIS
and Best in Show in the open class of her first show - and competition was fierce!
MISS AUSTRIA 2011