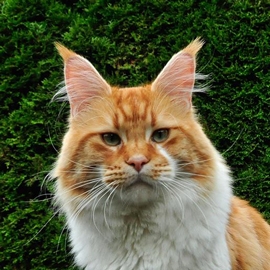 Health:
FeLV/FIV negative
HCM DNA mybPC3 negative
Parents HCM and PKD screened negative
HCM and PKD screened negative 2014
Description:
Our boy from Germany has a wild-like appearance and an extremely square muzzle.
His head shape is correct, her forehead perfectly curved.
The ears are long, well set and feature long and thick lynx tufts.
Try has a very strong body with distinct classic pattern.
He is a wonderful cat, loving and cuddlesome - a true gem!
Sabine thank you very much.