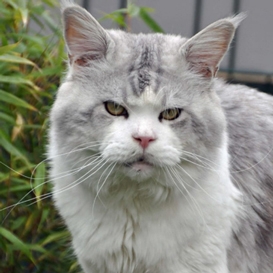 Health:
FeLV/FIV negative
HCM DNA mybPC3 negative
SMA negative & PKdef negative
parents HCM und PKD screened negative
HCM and PKD screened negative 2016
HCM and PKD screened negative 2018
HCM and PKD screened negative 2020
Hip x-ray - no sign of abnormality 2020
Color:
black silver white tabby ticked - carrie dilution
Father:
GC RW SGC Kelim Coons Amp
Mother:
Kelim Coons Mia
Description:
♥ ♥ ♥ We proudly present our new fantastic boy from kelimcoons cattery ♥ ♥ ♥
Sherlock Holmes is a cat of very large size and strength.
His muzzle is extremely square, his chin is deep and firm.
His ears are extraordinarily long, well set and feature long and thick lynx tufts.
It goes without saying that also his profile is extraordinary.