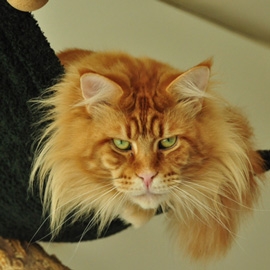 Health:
HCM DNA mybPC3 negative
HCM and PKD screened negative 07/2012
Parents HCM und PKD screened negativ
Color:
red tabby (trägt nonagouti)
Description:
Given his age, Do Remember is of remarkably large size featuring an XXL tail. Since his mother is extremely large we expect him to reach an enormous body size. He has a correct head shape with a long and square muzzle and a very firm chin. His paternal and maternal ancestries feature some world winners of the past years . He is a very promising cat, and we are curious to see his development.