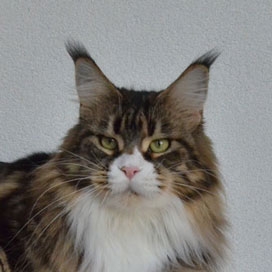 Health:
FeLV/FIV negativ
HCM DNA mybPC3 negativ
Eltern HCM and PKD screened negativ
HCM and PKD screened negative 2014
HCM and PKD screened negative 2016
Color:
black tabby classic white
Description:
We are happy and thrilled to welcome our latest addition from Florida, for the first time in Austria.
Esprit is everything that we have hoped and dreamed for and
it is a great honor for us that Stephanie has entrusted us with this extraordinary girl.
Amazing daughter of Angtini Joe Fish and Broadsway Summerheat
and a fabulous combination of her parents.
Thanks again for make this happen our real American girl is simply perfect ♥ ♥ ♥
Her first show Rom 22/23.02.2014
TICA CHAMPION with 9 months
9th AB, 13 BC, 8 BD
Best Breed, 4 2nd Breed, 2 3rd Breed
2014 SECOND BEST BLACK CLASSIC TABBY WHITE MAINE COON OF THE YEAR