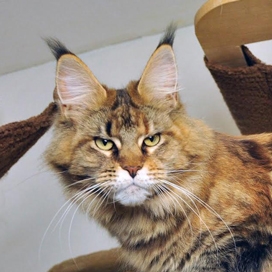 Health:
FeLV/FIV negative
HCM DNA mybPC3 negative
Parents HCM and PKD screened negative
HCM and PKD screened negative 2017
Vater: Qashqai Beyreuth z Matrixu
Mutter: Bastet Sky Beyreuth
Description:
Jana is a very strong Maine Coon cat with a good size for her age.
Her head shape is correct, her forehead perfectly curved.
She has very large ears, which are well set.Her muzzle is square with a matching chin.
Her coat is of extraordinary quality and silky texture, the tabby pattern is distinct.
♥ ♥ ♥ Youssef thank you very much for this beauty with a fantastic temper. ♥ ♥ ♥
TICA Champion with 10 months