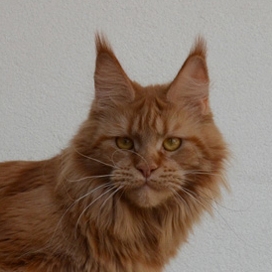 Health:
FeLV/FIV negativ
HCM DNA mybPC3 negativ
SMA negativ & PKdef negativ
parents HCM and PKD screened negativ
HCM and PKD screened negative 2019
Hip x-ray - no sign of abnormality 2020
HCM and PKD screened negative 2021
Mother:
AmayaLynx Commom Sense
Description:
Orenji has an extremely square muzzle and a very firm chin.
Her ears are long and well set, her profile is perfect.
I love her wild-like appearance and her fantastic colour.
She is a wonderful cat, loving and cuddlesome.